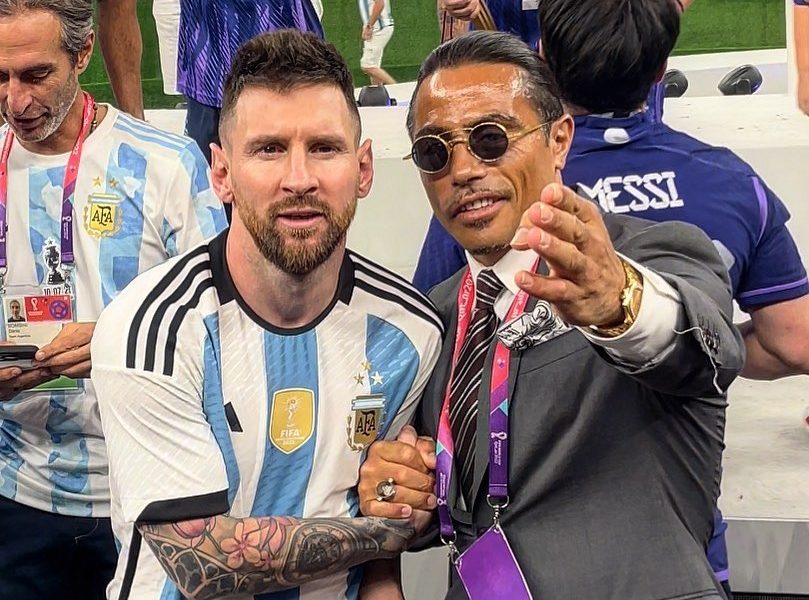 Salt Bae Faces Backlash After Fifa Worldcup Events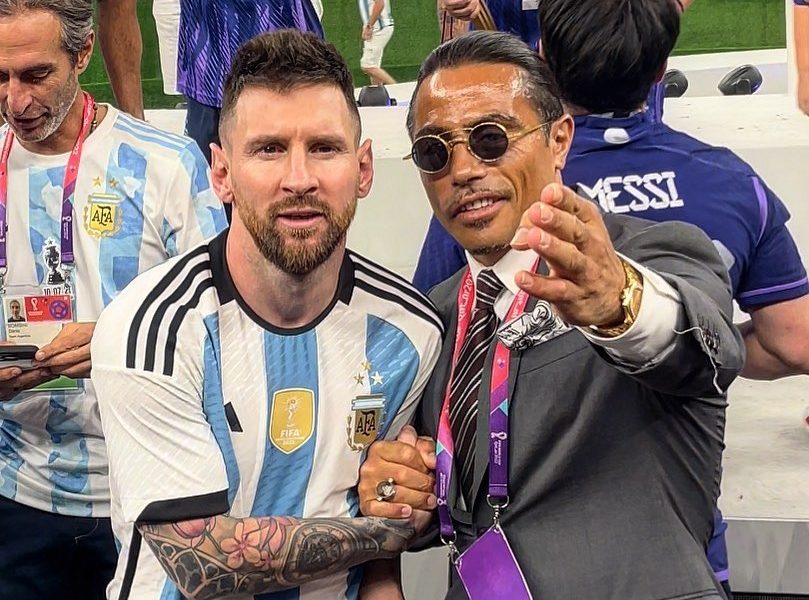 On December 18, a Turkish chef and restaurateur, Nusret Gokce, often known as Salt Bae, made headlines for causing a stir during the 2022 FIFA World Cup final. While the Men in Blue and White shirts celebrated with their families, he entered the field and disrupted their victory celebrations. To make matters worse, he even seized the World Cup trophy in complete contempt for FIFA regulations. This resulted in his exclusion from the U.S. Open Cup final, the oldest and most famous soccer event in the United States.
After joining Argentina players and their families on the pitch at Lusail Stadium during the World Cup victory celebrations, the chef found himself on the receiving end of the internet's rage. He was also photographed posing with the famous FIFA trophy. And wait – there's more!
The chef was also observed asking Lionel Messi for a photo; however, the star ignored him and continued to embrace his teammates instead. Salt Bae continued to annoy Messi and ultimately succeeded in obtaining a photo with him despite missing the obvious. In addition to posing with other squad members, such as Alexis MacAllister, Paulo Dybala, Nicolas Otamendi, Angel di Maria, and Leandro Paredes, he was also spotted chewing some of the champions' medals.
Salt Bae is hereby banned
It should be recalled that the verdict followed his shenanigans with Argentinian players at Sunday's FIFA World Cup championship celebration at Qatar's Lusail Stadium.
The steak seasoner attracted news earlier this week when he was photographed grasping the famous gold FIFA trophy as the world champions' family celebrated their historic victory.
According to FIFA regulations, only the champion and the head of state are permitted to touch the trophy. While FIFA has yet to penalize Gokce, the oldest US domestic tournament swiftly punished Salt Bae for harassing players like Angel di Maria, Leandro Paredes, Nicolas Otamendi, Paulo Dybala, Alexis Mac Allister, and others for pictures during their triumph moment.
"Following a probe, Fifa is determining how people got unauthorized access to the pitch following the 18 December closing ceremony at Lusail stadium. The right internal measures will be implemented, according to the statement cited by Fox News.
About Salt Bae
Nusret Gokce, often known as Salt Bae, is a Turkish butcher, chef, culinary entertainment, and restaurant whose innovative method of seasoning steaks went viral in January 2017. In videos posted on his restaurant's Twitter account, Gokce is seen deftly slicing steaks and then sprinkling salt from his fingertips to his forearm and finally onto the plate. His striking appearance earned him the nickname "Salt Bae" and made him a worldwide meme.
He owns the Nusr-Et steakhouse chain, which has locations throughout Turkey, Greece, the United States, the United Kingdom, the United Arab Emirates, Qatar, and Saudi Arabia. The name of his restaurant franchise is derived from his own name and the Turkish word for "meat," "Et."
Since becoming a viral hit, Salt Bae's popularity has skyrocketed. Even though his restaurant frequently receives unfavorable reviews for its food, which many critics have deemed "overpriced," he can now be spotted feeding a number of notable celebrities.